Would you like the opportunity to change your life for the better, have everything you ever wished for, if the answer is yes then you'll want to take your chance to win a stash of cash in Games at bet365's million pound slots giveaway.
Win your share of the incredibly large cash prizes that are on offer in Games at bet365's spectacular £1,000,000 Slots Giveaway!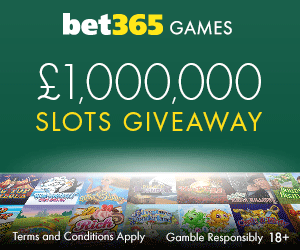 You can earn your tickets for the astonishing eight not to be missed bet365 games prize draws, when you play your favourite slots from now until 28th Feb 2016, plus each week there will be a different double ticket slot game, so if you're a bet365 Games regular you can be handsomely rewarded for continuing to do what you love.
How To Enter the Million Pound Slots Giveaway
To stake your place in the grand prize draw simply enjoy a spin on at bet365 Games or bet365 Bingo, there are plenty of exciting titles to choose from and you'll pick up a prize draw ticket for every £10 you stake in cash.
There are thousands of prizes, ranging from £10 to a magnificent £5,000, to be won. The remaining draws take place as per the schedule below, so as you can see there are plenty of chances to cash in.
Not just content with offering an amazing amount of cash in the prize draws, bet365 games have also selected a special slot for each week of the tournament, the chosen slot give you the opportunity earn twice as many tickets for every £10 deposited, which in turn doubles your chances of taking home any of the cash prizes up for grabs.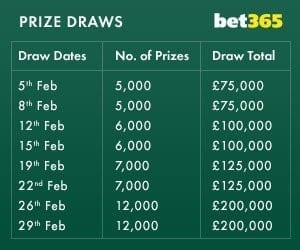 So to Opt In and take part in the Million Pound Slots Giveaway, simply stake £10 cash on any of the week's featured games, which include Rainbow Riches, Full Moon Fortunes, Britains Got Talent and Zodiac Supernova to receive prize draw ticket.
There's no limit to the number of prize draw tickets you can gain, or the number of wins you can have. The more you play with Games at bet365 or bet365 bingo, the better your chance of winning.
Bet365 Games Welcome Bonus
Welcome to Games at bet365, where the fun never stops! To get you off to a flying start with bet365's range of exciting games, bet365 are offering you an impressive 150% Opening Bonus. Simply deposit/transfer £10 or more to your Games account and you will receive a 150% bonus up to £150