With the launch of the Apple Watch and similar Android smartwatches, you knew it would only be a matter of time until we saw the first smartwatch casino games. It appears that Microgaming have stolen a march on their competitors, with the launch of Thunderstruck smartwatch casino game; so of course we at Phone Bill Casino had to check it out.
But despite the launch of Microgaming's daring delve in to the world of the Android Wear Casino and Smartwatch gaming, not everyone is convinced the uptake is there so not many casinos are offering Apple Watch casino games.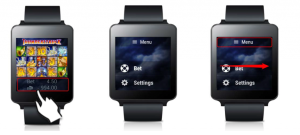 Only Royal Vegas have been brave enough to take the chance with a Smartwatch casino game by offering Thunderstruck for Android Wear, Thunderstruck is the first ever real play Smartwatch game games that you can now play on your compatible Android Wear, as a companion game to your Android AIR installation on your mobile device!
What is meant by companion game?
A companion game is quite simply a game you can play on a device, such as your smartwatch, that is paired with a host mobile phone or tablet, the premise is quite clever, it means that all you have to do is log in and load the game on your phone, pair it to your smartwatch and then you can put your phone away, as you can now control Thunderstruck fully on your smartwatch.
Because the Android Wear smartwatch does not simultaneously connect to multiple devices, companion games don't support multi-player games yet, though that may change as the technology develops, but it does make smartwatches perfect for casino games.
What is an Android Wear Casino
An Android wear casino is the gaming platform offered for smartwatches that are designed to use Android Wear, which are the official Android operating devices Google have created specifically for wearable devices.
Unfortunately not all smartwatch devices support Android Wear Casino, which include Pebble devices and those using Tizen.
Where else can I Play a Smartwatch Casino Game?
At this moment in time we've not been able to find any other casinos that offer smartwatch casino games, but no doubt that will be quick to change, when it does you can be sure Dazzle Casino and other top casinos will be the first to embrace this bold gaming method.