Despite only being available for around a month, Candy Cash has wasted no time in dishing out big cash prizes. Just in case you didn't know, Candy Cash is the new and exclusive fusion super-slot game from Pocket Fruity.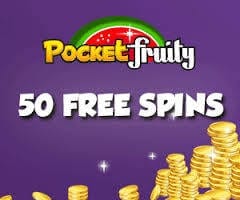 It's not hard to see why Candy Cash has quickly become a favourite with Pocket Fruity Players. Having launched the game amidst much excitement on 5th of August, Candy Cash has been instrumental in ensuring almost record breaking pay outs to players for such a short period of time. Pocket Fruity paid out over £72,000 within the first three days of launch, since then a whopping £711,000 has been dished out; with lots of casino goers taking home life changing amounts of cash.
The game has also had reels of fire, having registered over a million spins in just over two days of being made available to Pocket Fruity players.
So far the biggest player to benefit from the Candy Cash bonanza took home a sweet pay out of £11,000, from just one session; which was in fact part of a monumental winning streak that bagged them a total of £100,000!
This is merely a week after the launch of the game, which Pocket Fruity has calculated a pay out rate of a whopping 95%. So with stats like that the Candy Cash is bound to keep spilling out for everyone who fancies taking it for a spin.
What is Candy Cash?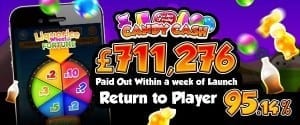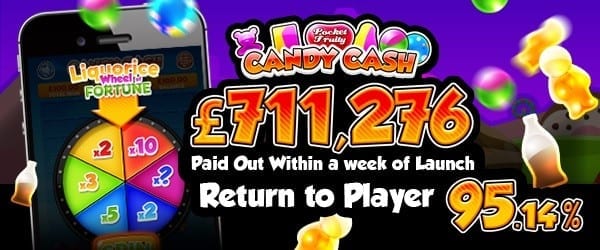 Well, if you are one of the millions of people worldwide who have enjoyed the infamous demo game Candy Crush Saga, either on your mobile phone or tablet; you know that one all your friends incessantly kept sending you invites for on Facebook. You'll be pleased to hear that there is now a real money game based on the same phenomena, that offers you the prospect of taking home some sweet cash amounts; after matching three or more candies for as little as 2p with Candy Cash!
While the game draws inspiration from the match-three-or-more-identical-symbols game, Candy Cash isn't simply a replica of Candy Crush Saga; there are plenty of unique features which make the game fresh and original.
If you want to know more you can read our Candy Cash Review or you can take a look at our Pocket Fruity Review to see what other amazing and unique games they have to offer.