Ad Disclaimer
Ad Disclaimer!
PBC is an affiliation website. We help you find gambling sites where you can play with real money.
Many or all of the products and brands featured here are from our partners who compensate us. This may influence how the product or brand appears on a page. However, this does not influence our evaluations. Our opinions are our own.
The information on this page, including operator and game details, is updated regularly but subject to change.
The majority of the time, online gambling can be a smooth and enjoyable experience. But on occasion things can go slightly wrong and that's why an online casino complaint procedure is essential; even if it is rarely used. Our guide to casino complaints can help navigate your way from a frustrating experience to a resolution you can be happy with.
The thought of something going wrong with online gambling may deter some people. But in reality, as modern casinos are run on sophisticated software, they can sometimes glitch, so there a few things that can go wrong.
It could be that after finishing a slot game with a winning spin, the credit didn't enter your wallet. Or while you were playing the screen froze and your credit disappeared. If this happens we will explain what steps to take in order to rectify the issue. If on the rare occasion it can't be resolved, we will then talk you through your options and who to contact.
Just like casinos can look the same, so can their complaints procedures. But depending on where you are playing they may differ slightly. Although there is no need to worry that they are overcomplicated, as they all have to follow the guidelines set out by the UK Gambling Commission.
So before you start gambling at any online casino, make sure they regulated accordingly. In order to do this you can simply scroll to the bottom of their site and click/tap the gambling commission logo. This should take you through to their licencing information on the UKGC website.
If there is no logo you can also search for the brands licence details at the UKGC. Should their details not appear, then would recommend finding another casino.
Common Complaints at Online Gambling Sites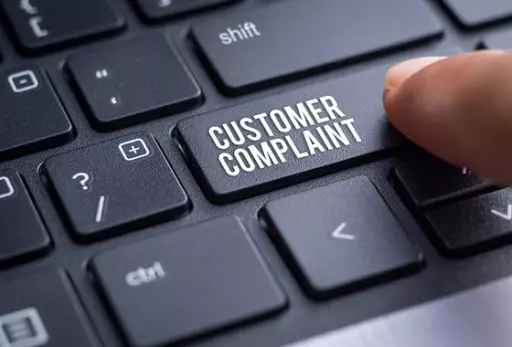 No doubt the majority of online gambling will run smoothly with little to no issues. But although rare, there are sometimes occasions where things don't quite go to plan. Below you'll find some of the most common reasons for customer complaints. We suggest reading through these as they will help you understand some processes and whether there is actually reason to raise a complaint.
Terms & Conditions
The terms and conditions of welcome bonuses and regular promotions are generally the most common frustrations for players. They can generally be long winded and extremely detailed. This is why the UK Gambling commission have worked with casino sites in an effort to simply them and provide more clarity.
Therefore you will now see what are known as significant terms and conditions listed next to a promo or on any image containing an offer. These are designed to bring you key information about your bonus, so it's worth giving them a read to avoid any possible frustration.
Despite the work of the UKGC, these T's &C's can still be a little confusing to those new to online gambling; the terminology can also be unfamiliar. This is the most common reason for raising a complaint, so again we would recommend giving them a read before accepting any bonuses.
If there are any you don't quite understand, it may be worth chatting to the casino to get clarification. As any complaint raised through a lack of understanding or misinterpretation of requirements is likely going to result in disappointment for the customer.
Withdrawal Time & Limit Complaints
Let's face it, one of the best things you do when gambling online is land a decent win, which you can't wait to withdraw. But this can sometimes be a long winded and painful process that leads to complaints from customers
Of course not every casino or payment method yields the same results so it's worthwhile making sure you are using a fast withdrawal casino banking option.
The bigger and more reputable casinos will likely process your request the same day, but unfortunately some casinos have a pending period built in to withdrawal process. In the past the hope from the casino was that you would reverse the payment or that it would put you off making small withdrawals.
Although it has to be said that there are some occasions where a delayed payment is valid. Although we are in an era of 24hr banking, evenings, weekends and bank holidays can still slow down processing times.
As convenient as you may find it using a certain payment method, if it the root cause of a slow payment, you may want to reconsider. For instance, debit cards and bank transfers tend to be a lot slower than e-wallets like PayPal and Neteller.
Another common frustration that leads to complaints from players are "know your customer" checks. In all honesty this generally only affects new customers or those making their first withdrawal.
These checks were introduced by the UKGC for two key reasons, to ensure the customer is of legal gambling age and to reduce the risk of money laundering. At some casinos these check are carried out when opening an account, but sadly the majority choose to wait until you want to take your money out.
As part of this process you will need to provide proof of identity as well as documentation known as source of funds. This is usually information from your bank to prove the funds you have gambled with are legitimate. Processing of these documents can delay payments by several days, so bear this in mind when making your first request.
 Software and Technical Complaints
Online casinos obviously rely heavily on software and various other technical elements, which are prone to developing issues. When it comes to casinos the old IT adage of "turn it off and on again" just isn't feasible.
Although rare, some of the more common issues tend to be a game freeze or voiding of winnings due to glitches. If you do encounter issues when gambling online, the first thing you should do is take a screen shot of the page/issue as evidence, especially if you have substantial winnings in the pot.
In the most part, casinos can be very supportive when issues arise, but they will likely cover themselves in their terms and conditions absolving themselves of liability. But under no circumstances should you let that deter you from raising a legitimate complaint, especially where lost winnings are involved.
Self-Exclusion Complaints
If you are casual gambler, then chances are you won't have come across self-exclusion before. This is a game changing option designed to help people with gambling addiction or financial issues. In our opinion it has definitely been one of the best regulation changes brought in by the gambling commission. As it helps people who are in a vulnerable position either financially or mentally.
Self-excluding is basically the act of taking matters in to your own hands. As much as casinos are required to monitor player activity and look for tell-tale signs of vulnerability, they'll never actually know your personal circumstances. So when you feel things may be getting on top of you can impose a time out period on yourself.
By opting out you are telling the casino to block access to your account, as well stopping all communications such as emails and texts. This is where the complaints arise.
Sometimes these measures don't work as they should, often due to a floor in internal processes; meaning players are still able to gamble or receive gambling communications. This is a serious breach of the Gambling Commission's regulations and has led to brands such as 888 receiving multi million pound fines.
If this happens to you then not only will you want to raise a complaint with the gambling site, you may also want to consider contacting the UKGC.
How to File a Complaint against a Casino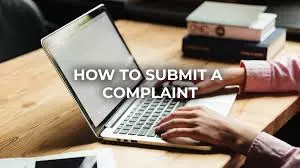 As we mentioned earlier, each casino will have their own complaints procedure, but they will all contain the same basic elements. This should always be your first port of call when experiencing any kind of issue with your account. As more often than not, the casino will be able to resolve it rather than risk a bad review or escalated complaint.
Before you make your complaint, it's best to take a little time out to compose yourself and maybe even document everything that happened
Below you will find details on every step for how to file a complaint, as well as information on additional courses of action should you not reach an amicable conclusion. It's also worth having a quick read of their complaints procedure, you may even get some helpful information from their FAQ's.
Making Your Complaint
The first thing you will want to do when making your complaint is to visit the contact section, then opt for your preferred option. The most common contact methods include Telephone, email, live chat or social media.
Once you have chosen how you will raise your complaint, this is where your pre prepared statement comes in. Remember to include as much information and detail as possible, we also recommend to try and leave emotion out of any correspondence, no matter how frustrated you feel; as this can lead to you not conveying all the relevant information correctly.
Information Required
As we have mentioned above, providing the right information is essential. As much as some casinos will ask for differ in what they require, the basics are as follows;
Your full name,
Your username,
Any security or pin codes required,
Your contact details,
Full details of the complaint – Including dates and times of when the incident occurred and any supporting evidence.
We doubt you would leave it too long to register your complaint, but it is worth noting that most sites have a 12 month time limit on making your complaint.
Once you have made your submission you should receive an automated email confirming it has been received and is being dealt with. If you haven't, or if you make your complaint by phone, it may be worth asking for written confirmation. This is so you have it documented, should you need it further down the line.
It's also worthwhile making notes or keeping records of any conversation you have, whether that be the initial contact or any follow up calls.
Outcome of your Complaint
Once the casino has received all of the relevant information it will begin to process your complaint. During this period they will compare the details to see if they match any information they are able to gather from their side, with a view to resolving the issue.
Depending on the size of the complaint and the issues raised, this can take anything from 24hrs to several days. But they should provide you with a time frame when they confirm receipt of your complaint.
Although most complaints can be resolved at the first attempt, some people are left dissatisfied with the outcome. Should this happen to you then they will provide details of how you can lodge an appeal. This is still an internal process but is usually handled by a more senior member of staff, who has more authority when making decisions; but their decisions are final.
Making a Complaint Using External Mediators
Sadly, a casino site can sometimes stick to their guns when assessing complaints. This is where you have choice to make, do you let it go or do you see further assistance? Below you will find details of some external companies who can and are willing to take on the casino on your behalf.
Resolver
It's no surprise that Martin Lewis has a hatred of gambling. So he used his online platform, Money Saving Expert, to help create Resolver with the help of the UK Gambling Commission. Resolver is free and using the knowledge the UKGC has gathered regarding consumer complaints, they have put together some handy tools to help you with your dispute.
Unfortunately they are not a mediator, but they will assist you in every step of the complaint to ensure you are saying all the right things. You can even use their system to track your complaint and store essential information such as emails and screenshots. If this is your first complaint, then resolver is the ideal starting point.
AskGamblers Complaint System
AskGamblers originated as an information gathering site for the gambling community. But they quickly expanded from that, using their connections in the gambling industry to become a reputable resolution mediator.
The only drawback lies in the fact that they will only be able to help you if your casino is listed in their directory. Which is good news if your issue is with a bigger more reputable brand, but if you've been gambling at a smaller more independent casino, then this course of action may not be for you.
If you can use their services, then simply make your way to their complaints section. Once there you will be asked to provide the name of the casino as well as your details and the reason for your complaint; you can also upload any images or screenshots you may have to back up your claim.
AskGamblers will then review the information and work on contacting the casino to discuss the issue. They will also provide you with a dedicated portal where you can track their progress and receive updates.
As a mediator they will be working to try and find a resolution between you and the casino, in most cases this result in a satisfactory outcome. But if this isn't the case for you, then don't worry as their word isn't final, you still have the option of additional third party assistance.
It's worth noting that AG mainly focus on whether the casino have adhered to their own terms and conditions. So if relevant, make sure you've read the key elements before submitting your complaint.
IBAS
IBAS (Independent Betting Adjudication Service) are a completely independent and impartial adjudication service. They help to facilitate disputes between customer and the gambling site they have an issue with. But they can only do this for casinos that have a UK gambling licence.
You shouldn't look to involve IBAS at the beginning stages of your complaint, as they will want to see evidence of you initially trying to resolve the issue directly with the casino. This is so they can focus their attention on genuine complaints and not be tied up fighting frivolous claims.
As with the other resolution options we've mentioned, this is a free digital service; meaning there are no face to face meetings. You simply need to provide the details of your original complaint, responses and outcome from the casino and any supporting evidence you have.
To do this you will need to create an account with IBAS, who will then present their case to the casino and await their rebuttal. Once they have all the information from both sides they will make their ruling.
Although IBAS rulings are not legally binding, it's worth bearing in mind that should they rule in your favour, it's in the best interests of the casino to adhere to the ruling. As IBAS is a recognised ADR service with the UKGC and not following through with the ruling could have adverse effects on their licence.
eCogra
The eCommerce and Online Gaming Regulation and Assurance is another ADR service, but just like with AskGamblers, eCogra can only help with certain casinos. You are only able to use their services if your complaint relates to a casino who is registered with them. To determine if this is the case then their logo should be visible in the footer of the casinos website.
Being a registered casino means they have to uphold high levels of service and standards. Just like with the IBAS, they carry a lot of sway in the gambling community and being registered with them is seen as a prestigious accolade. So it is in the casinos best interest to keep them happy and on side.
Alternative Complaint Options
ADR's aren't the only way to go for making a complaint. If you feel particularly aggrieved by a casino either by their actions or the outcome of a complaint, then you can take things to the highest level. As not all complaints come from gamblers, some can be made by concerned citizens who believe the casino is breaching regulations or behaving in an unsavoury manor.
Depending on what your grievance is, you may want to consider the following courses of action.
Gambling Commission
As you probably know by now, the Gambling Commission regulates all gambling activity in the UK. Casinos are bound by their regulations and guidelines, failing to do so can result in a severe penalty and even the stripping of their gambling licence.
If you feel a gambling site is in breach of the conditions of their licence, then you can take your complaint directly to the UKGC. However, they will not act as a mediator for complaints relating to your account, they will only reprimand the casinos if they have breached any terms and conditions.
Advertising Standards Authority

As well as adhering to rules set out by the UKGC, a casino also has to follow ASA guidelines in relation to advertising their sites online and in all other forms of media in the UK.
If you feel their advertising is misleading, creates an expectation of wealth/winning or is targeting vulnerable people, such as people under age or those with addiction issues; then this is who you would need to contact.
Media Sources
If after following the steps laid out above, you still the casino and ADR have not resolved the issue to your liking, then your last port of call would be to contact the media.
In some cases a strongly worded social media post can work wonders, as the casino will not want such bad publicity in the public domain. TV and Newspapers are also a good way to stir up a favourable response from the casino.
Casino Complaints Procedure Summary
We appreciate that there is a lot of information here for you to digest, but it should be enough to get you going with your complaint. More often than not, the casino will resolve the issue at the first time of asking, so it's unlikely you will need any of the ADR services.
It's always handy to have that information should you experience any further issues or are unfairly treated in the future. But the biggest take away you should have from this is to ensure you read any T&C's before accepting any promos or bonuses, so you know what you are getting in to; also saving any future frustration.